Politicized Motherhood: Sarah Palin's Caged Grizzly Bear
Abstract
In 2008, Senator John McCain elevated Sarah Palin's status as a politician to the national level when he named her as his vice-presidential nominee for the Republican Party. Sarah Palin built her campaign on the foundation of her role as a mother. She drew attention to the numerous responsibilities mothers face as family caretakers and called on her fellow mothers to join her in the fight to build a safer America for their children. Palin made strides as the first GOP woman nominated for the vice-presidential role, but her own party was unconducive to women occupying leadership positions. Even so, she remained a loyal advocate of her party's ideologyand messaging. Palin's subscription to her party's agenda, coupled with her propagation of conservative feminism which called on women to preserve traditional gender roles, set a narrow definition for what a high-level woman politician could look like. Palin curbed the potential gains her nomination in a male-dominated field could have made for American women because her own rhetoric prevented women politicians and constituents from gaining political autonomy outside of the constraints of the role of motherhood.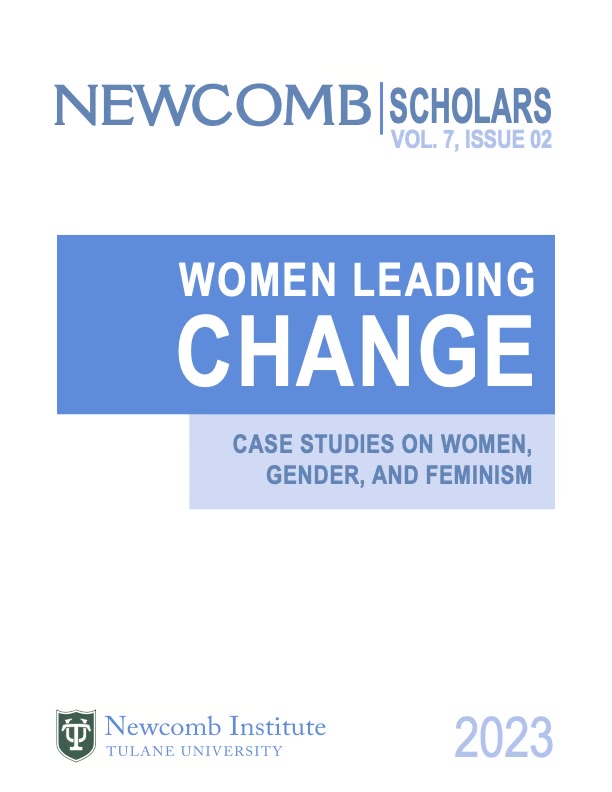 Downloads
License
Copyright (c) 2022 Women Leading Change: Case Studies on Women, Gender, and Feminism
This work is licensed under a Creative Commons Attribution-NonCommercial-ShareAlike 4.0 International License.
Newcomb College Institute of Undergraduate Researchis an open-access journal, so articles will be released under a Attribution-ShareAlike 3.0 Unported (CC BY-SA 3.0).