Anxiety Behavior Induced in Mice by Acute Stress
Keywords:
mice, stress, anxiety, neuroscience, biology, neuron, behavior
Abstract
The amygdala is known to be part of a limbic circuit critical for the integration of cognitive function, emotion, and memory. The basolateral nucleus of the amygdala (BLA) is implicated in fear memory formation and acts as an overall fear and anxiety response center in the brain. Stress activates the hypothalamic-pituitary-adrenal (HPA) neuroendocrine axis, ultimately causing the release of glucocorticoids from the cortex of the adrenal glands. Previous studies showed that a 30-minute restraint stress causes a glucocorticoid-induced suppression of inhibitory synaptic inputs to BLA neurons in rats, which should lead to an increase in BLA neuron excitability and result in an anxiety-like behavior. Here, we conducted behavioral experiments in mice to test for anxiety-like behavior induced by an acute stress using the elevated plus maze, open field test, and light-dark box test. We found that mice display more anxiogenic behavior following acute restraint stress.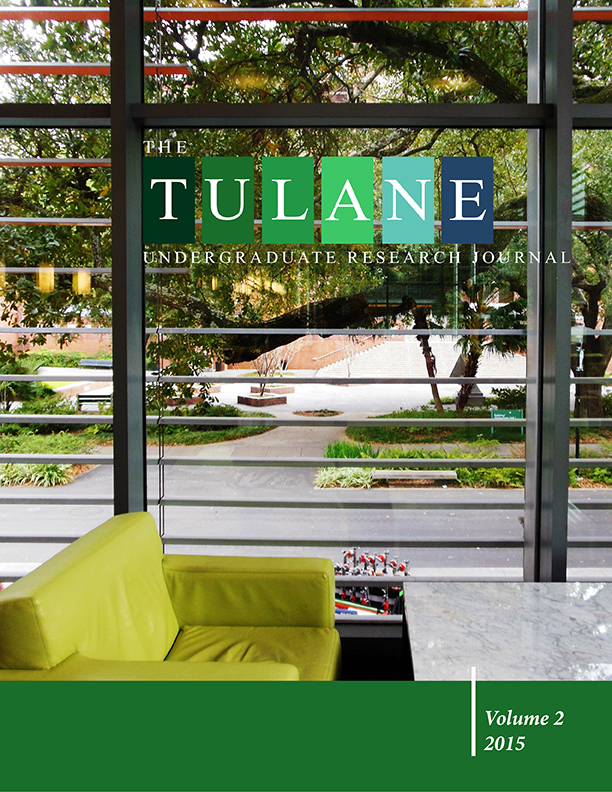 Downloads
License
Tulane Undergraduate Research Journal is an open-access journal, so articles will be released under a Creative Commons Attribution-Noncommercial-NoDerivs CC-BY-NC-ND 3.0 Unported license, allowing the free dissemination of the work for noncommercial purposes. Authors retain copyright to the work and grant the journal right of first publication with the work simultaneously licensed under the Creative CommonsAttribution-NonCommercial-NoDerivs 3.0 Unported (CC BY-NC-ND 3.0) [see http://creativecommons.org/licenses/by-nc-nd/3.0/legalcode]; authors further grant the journal a waiver of clause 4(b) [restriction against commercial advantage or private monetary compensation]. If the journal rejects the work, the journal simultaneously waives the granted right of first publication.